This birthday cake for my "classy chic" niece was the first time I've attempted a double barrel cake (which means two tiers of the same size stacked on top of each other). I made four 8″ layers baked in  Wilton's 3″ high pans.  The layers were leveled, torted, and filled with softened ganache and strawberry preserve filling. Each 8″ tier was then prepared as though they were two separate tiers (dowels and separator plate between them), but they were iced on the outside in ganache all together.
Then I filled and iced the 6″ tier with white chocolate ganache. When using white chocolate for icing ganache you need to use more white chocolate in ratio to heavy cream so that it will stiffen up and not stay soft.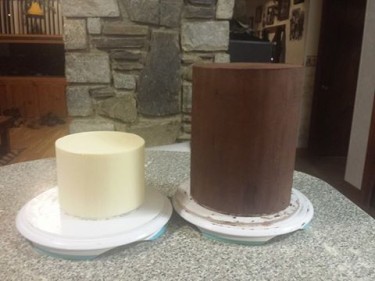 Although it took awhile, it was actually fun smoothing the ganache to achieve straight sides.
Then the fun really began with covering the cakes in fondant, and decorating with 'butterfly hearts' that I dusted with super luster gold & silver dust. On a few of them I added gold & silver disco dust for added bling!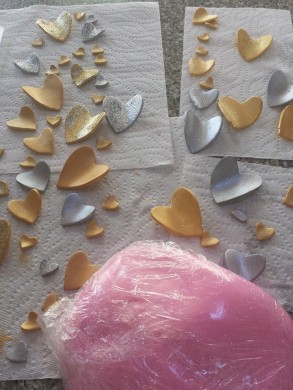 The final design has a front and a back to it – (I was given a picture off of Pinterest to use as a sample design idea, so I must give credit to the person that made the original design!)  but I added a few twists and different colors.
Very nervous during delivery, but it all went great, and it was a fabulous 30th birthday party!