So excited and grateful to attend the Wilton Headquarters School in Darien, Illinois, for Instructor refresher classes last week. It was great to meet other Instructors from around the U.S. and Canada.
The world of cake decorating is constantly changing with new and unique "on-trend" designs and techniques, and I love to at least try and keep up with these new ideas as much as I can, so that I can share them with my students!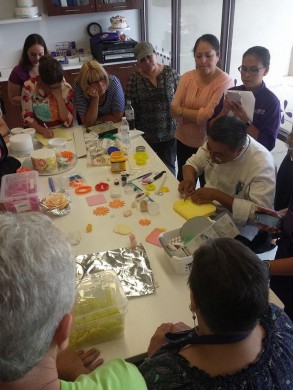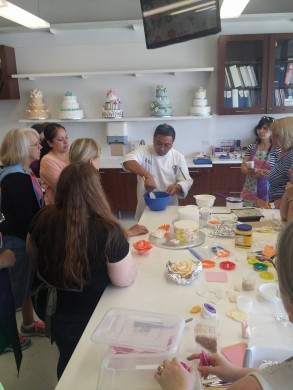 I've been noticing that succulent plants are becoming a new style in cake decorating, even on wedding cakes. While I do think they are kindda cool looking, it wasn't until we started making them and it was said what an Agave plant is used for, that I realized maybe WHY they are popular ... Ok, you may already know this ...but I didn't!!! Agave is used to make tequila, I had no idea, but I think that explains the popularity..hehe!! 
One of my favorite techniques was using modeling chocolate to cover a cake just like you would fondant.  And then using cocoa butter paint to paint designs on it. Also, sculpting and creating flowers with the modeling chocolate. Beautiful and yummy!!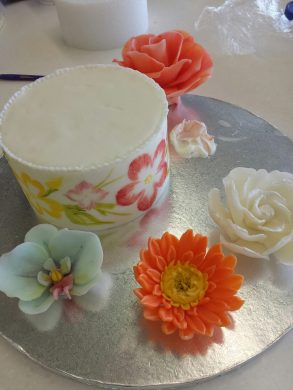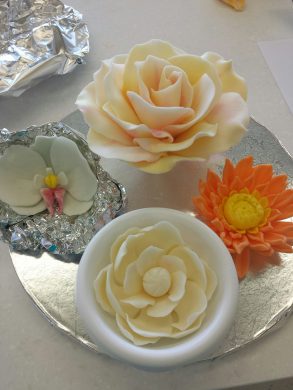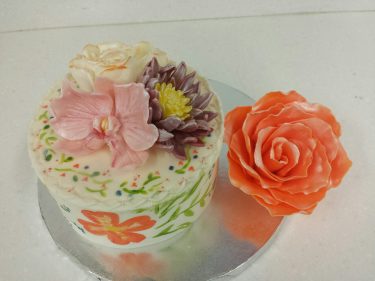 What is modeling chocolate you ask?
Well, it is a really yummy modeling medium made with ....chocolate.
In this class we used Wilton Candy Melts, of course!  
    12 oz. white candy melts & 6 oz. glucose ( you can use corn syrup but glucose makes a stiffer consistency)  
Adjust with more chocolate in humid weather.
Melt the Candy Melts in microwave, and warm up the glucose to pourable consistency. Stir glucose into melted Candy Melts just until combined. Spread out flat to cool and wrap in plastic wrap to cure a few hours or overnight.
****
There was even the bonus of being there at the same time as the Wilton Headquarters Annual Warehouse Sale!  A warehouse of goodies on sale...oh my!!   
*