The new Wilton Modeling 101 class has been fantastic! This class goes through the basics of using fondant or Wilton Shape-N-Amaze modeling dough. In the class everyone practices basic modeling skills ( ball, cone, joint attachments, and sizing) while creating a super cute puppy. Some students have even added their own features to resemble a favorite, furry, friend in their lives.
Students' puppies: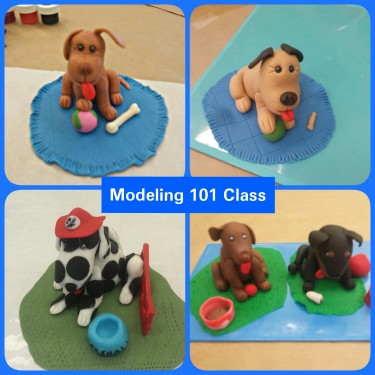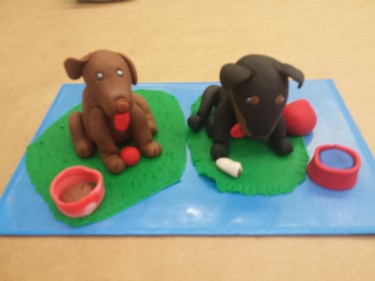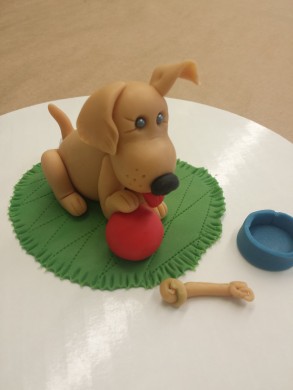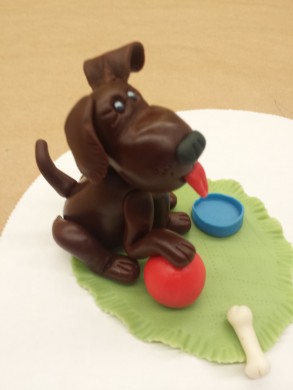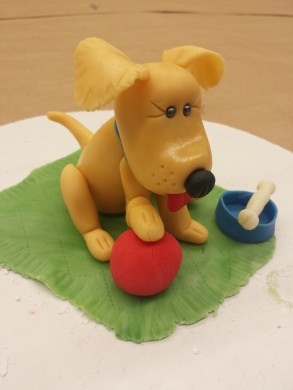 In class we use either Wilton Shape-N-Amaze edible decorating dough or a fondant mixture :
As Wilton's motto goes, "We make it easy...you make it amazing," the Shape-N-Amaze is very easy to use! It will seem super hard when you feel the package, making you think there is no way to work with such hard material, but as you work it and knead little pieces at a time it becomes soft and smooth. Think of it as a hard caramel or tootsie roll that will get soft once you knead it and warm it up in your hands. ( BTW - caramels & tootsie rolls are another awesome modeling medium!)  I have found it to be an easy dough to work with after it is softened up. The reason it is so hard is to hold its shape after it is formed and to dry quickly without sagging or drooping as it dries. The only drawback is the taste is kind of a bland, doughy taste. So this is a great medium to work with if the figure isn't necessarily going to be eaten.
   Another edible medium to model with is fondant. Fondant by itself though is pretty soft and takes awhile to dry. As it is drying the figure may droop and sag. If it is a large figure you can make Rice Crispy Treats ( marshmallows & rice crispy cereal) and shape that into the form you want, th
en cover it with fondant.  
Other options to stiffen your fondant to keep it from sagging and help it to dry quicker : 
Add an equal amount of ready made gum paste to the fondant to create a 50/50 mixture, or you can add a very small amount of Gum-Tex Tylose Powder to your fondant to help stiffen it up.
Just remember that this will dry pretty quickly and you will need to keep it covered with a coating of shortening and wrapped in plastic wrap when not in use.
This class has encouraged me to expand beyond the basics taught in the class and experiment with other edible modeling mediums. If you know me then you know how much I luuvvv chocolate!! So it's become a passion to use modeling chocolate as a medium! A yummy edible medium!  Modeling chocolate is very soft and difficult to use in high humidity, which there was a lot of the day I made this Raggedy Ann, but it worked just fine because the sagging and drooping just made her look more raggedy!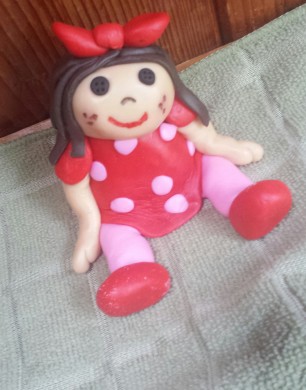 I used mostly Candy Clay to make her. Candy Clay is Wilton's way of making modeling chocolate. Remember their motto...."We make it easy...you make it amazing," so Candy Clay is an easy form of modeling chocolate. It is made from Candy Melts which technically may not be a "true chocolate," but still tastes really good and is definitely easy to work with. It comes in a variety of different colors and flavors! Alternatively, chocolate chips can also be used!
Candy melts, white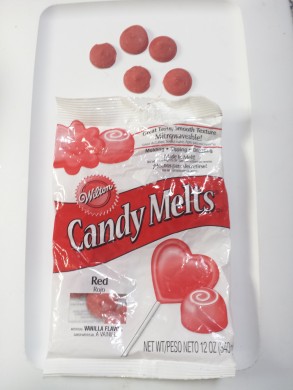 chocolate chips, and milk chocolate chips have more "fats" which make the chocolate softer. If you use semi-sweet chocolate or a chocolate that has 60% or more cacao it will be stiffer and you may need to add more glucose or corn syrup. (Glucose will make a little stiffer dough compared to using corn syrup) Also, depending on the humidity you may need to adjust a lesser amount of corn syrup/glucose in high humidity weather.
  Candy Clay / Modeling Chocolate  - use 2:1 ratio , for example two parts chocolate to one part glucose or corn syrup.
   1/4 cup glucose ( or light corn syrup)
  12 oz. bag candy melts 
Melt candy melts in microwave at 50% power for 1 minute, stir, then additional 30 second intervals until melted. Warm glucose (or corn syrup) just to pourable consistency. Stir into melted candy melts JUST until combined, DON"T over-mix.  Spread and flatten out onto wax paper, let cool slightly, and wrap in saran wrap overnight to rest. Then it can be kneaded and used.  
One important tip when melting chocolate of any kind - don't let any water or moisture get into the chocolate or bowl! Water will make chocolate seize which means it gets crumbly, grainy, and won't mix smooth. So if you are melting the chocolate over a double boiler be very careful the steam doesn't get into the chocolate!  
    Another important tip - All of these different mediums can be combined and kneaded together to form the consistency, or taste, that you want. I actually used a bit of left over fondant that I had to mix into the red candy clay for my Raggedy Ann Doll. I mostly just wanted to use up the pieces of fondant I had left over from another class, but by adding it to the candy clay it also stiffened up the consistency.
Here is another picture of modeling chocolate roses. These were made from melted milk chocolate chips & corn syrup. Modeling chocolate doesn't roll out as 'paper thin' as gum paste does to make delicate, fine, ruffled petals, but it sure is delightfully yummy!!