Through the month of December I wanted to celebrate not only the holidays, but also the anniversary of my business Let's Cake Decorate, so I had several giveaway/drawings  posted on the Facebook page to show my appreciation to all my followers!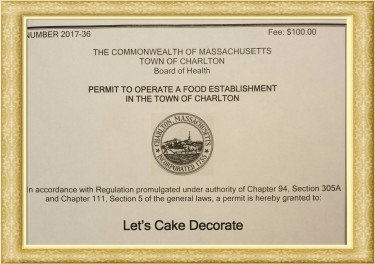 One of the Giveaway prizes was a Holiday Cake that allowed me to try new techniques that I probably otherwise would not have taken the time to do! It gave me a firm reason and commitment to actually finish and accomplish trying out new "on-trend" techniques that I've been wanting to do but haven't taken the time to do. So planning began….and I knew it had to involve chocolate!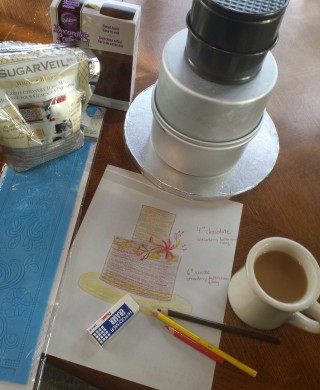 (Chocolate cake covered in chocolate ganache, covered with chocolate fondant)
I wanted to try SugarVeil which makes a lacy design from a mold. I found SugarVeil quite difficult to work with, especially the scroll pattern. It took a long time to dry. I even tried drying it in a warm oven per instructions. It was best to just leave it out on the counter for a day or two to dry. Trying to get it out of the mold definitely doesn't work if it isn't dry enough. The individual scrolls were hard to keep separated apart when it was removed from the mold. I tried it a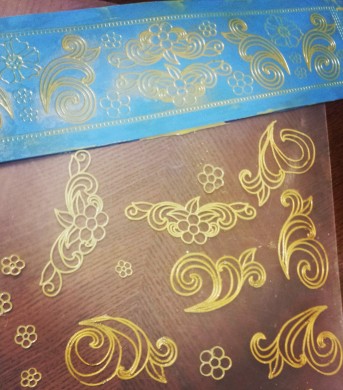 second, and even a third time, and found that using a color dust, or pearl dust ( I used gold pearl dust) on the mat before applying the SugarVeil helped it to release easier. I knew I wanted a gold color, but any color dust would work. (Use white dust to keep the original color)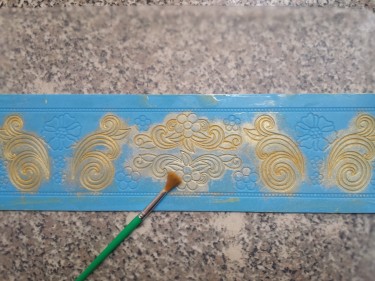 There are several different mediums out there used to make lace patterns. Another product is called Sugar Dress and I tried that afterwards in the same mold to compare it, and found it dried much faster and was easier to work with – not as stretchy as SugarVeil.   (SugarVeil was used on this cake though)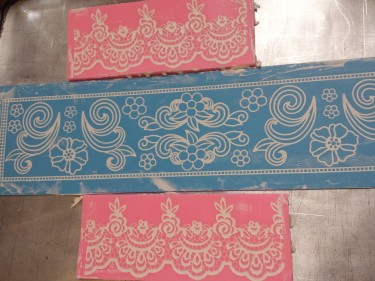 Another technique was to 'watercolor' the chocolate fondant on the top tier with a gold pear dust to give it a little glimmer and bling. Adding just a few drops of grain alcohol to the pear dust makes it 'paintable'. The alcohol evaporates quickly and leaves a beautiful watercolor look. If you use water instead it takes a long time to dry and may get the fondant all gooey and sticky.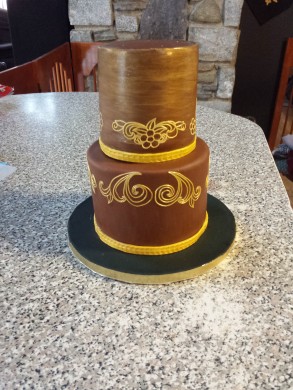 Next came the making of some gum paste poinsettias. I know there are specific poinsettia petal cutters, but I used what I had at the time ( lily and orchid cutters) trimming and ruffling each petal and attaching to wires, then letting them dry before assembling.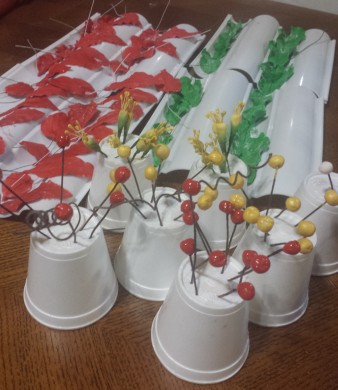 Also made little berries out of gum paste. After the gum paste was dry I used a corn syrup/alcohol mixture to give them a shine. Confectioners Glaze also works nicely to add a shine and dries completely whereas the corn syrup mixture may stay just a little bit sticky.
The fun part is assembling and color dusting the flowers.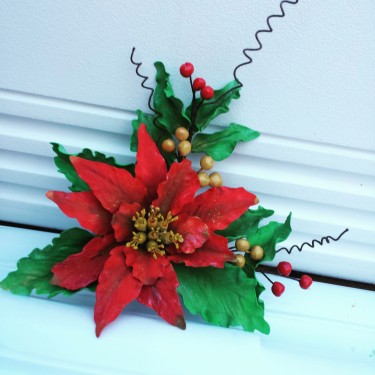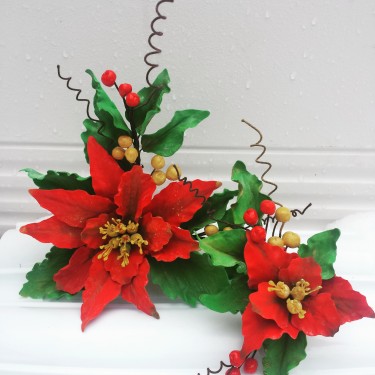 Then arranging them onto the cake using plastic flower spikes.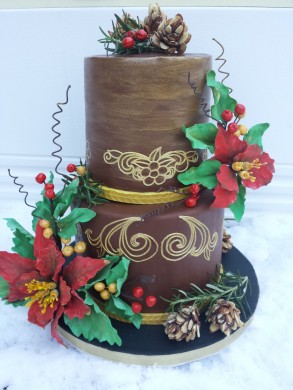 This picture shows the delicate little snowdrops I added using white royal icing in a piping bag.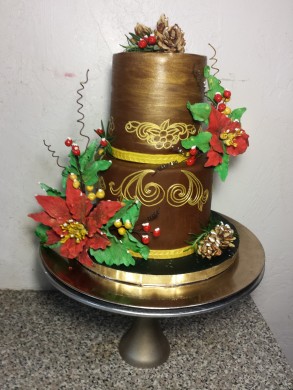 When you don't have a box that fits the cake for delivery, a plastic wrap for gift baskets used upside down works nicely!