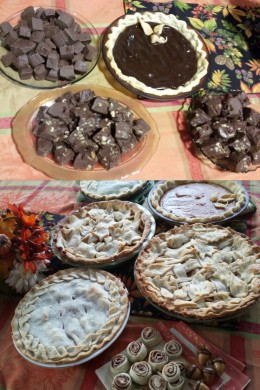 Thanksgiving & Christmas always inspire me to bake, decorate, and try new creative things!
Although there are always the sure and true "staples" of the holidays. Whenever I mention I'm going to try a new recipe, I usually hear from my oldest son, "I like pie," and "You can't break tradition, you have to make the fudge you always make!" So I definitely always make those to keep everyone happy!
But this year I took the time to try some new things too. I've always wanted to make those adorable pinecones that you see made from almonds.
I used a base of fondant shaped like a cone and tried to just stick the almond slices into the fondant….well that didn't work very well. The small cone shape just isn't big enough to fit all the almonds in that you need to. So what worked best was to attach the almond slivers with melted chocolate. I melted chocolate in a decorating bag and piped just a drop onto the back side of the almond slivers and placed them onto the fondant cone shape, just placed on the outside not stuck in.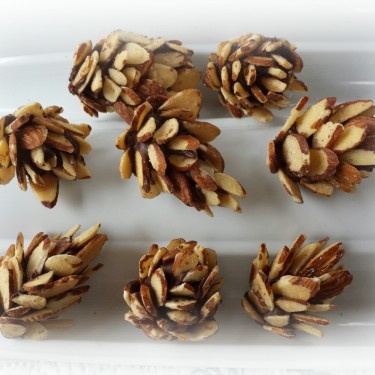 You don't necessarily have to use fondant to make the cone shape, you could use any edible dough that will hold up the almonds: tootsie rolls or caramels warmed up and reshaped, modeling chocolate, heck you could even bake pie dough into a cone shape!
I used the pinecones on my Holiday Cake which I'll talk about in a different post. Rosemary twigs placed beside them resembled a pine branch, and the fragrance from the rosemary was beautiful!